About the Book
Instagram is the hottest and most talked about marketing tool out there. With hundreds of millions of active users and tens of millions of posts shared on a daily basis, Instagram can change the way your business interacts with customers. Instagram is the perfect delivery platform for photos and videos, which are incredibly important for the success of your business' marketing campaigns; but how do you actually promote your products on Instagram?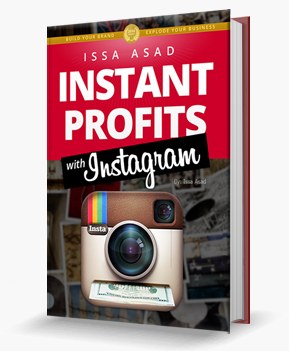 The solution to the question above is the best-selling book, Instant Profits with Instagram, by social media and marketing expert Issa Asad! The book explains how you can easily promote your business' products and services on Instagram for little to no cost.
Instant Profits with Instagram is Mr. Asad's first publication. First launched on September 10, 2014, the book quickly became an Amazon Best Seller in the Entrepreneurship & Sales and Marketing & Sales categories. Thousands of business owners and marketing professionals have downloaded the book; many readers have praised Mr. Asad's tips, tricks and industry secrets to building your brand and exploding your business on Instagram.
"This book is a great guide to Instagram,"
said Andres M. from Ninety Second Media.
"I highly recommend every business download this book!"
said Jonathan D., owner of Johnny D's Sports Bar and Grill
"[The book] helped us get over 1,000 followers in less than a week," said Dana T. owner of a spa located in Miami, Florida.
From the creation of your business' Instagram account to the attaining and engagement of followers, Instant Profits with Instagram will help you every step of the way. Mr. Asad even explains a few of his foolproof Instagram marketing campaigns that you can use to increase followers and build your brand in just days.
It's easy to integrate Instagram into your marketing efforts, regardless of your business' marketing budget or target demographics. Let Instant Profits with Instagram make profiting on Instagram even easier; get your copy now and learn to explode your brand and business today!
Instant Profits with Instagram is available now on most online eBook retailers, including Amazon, Google Play and iTunes. Click on the links below to download the book on your favorite store right now.